Raina Bhagat
Home Department: English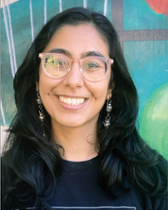 Raina Bhagat is a PhD candidate in Comparative Literary Studies, a Mellon Cluster Fellow in Science Studies with a home department in English. She received her B.A. in English and French from St. Xavier's College, Mumbai, India, and holds an M.A. in English from Jawaharlal Nehru University, New Delhi, India.
Her current research examines energy and race in contemporary dystopian science fiction from the United States, Russia and the former Soviet republics, and South Asia. In her project, she makes connections between Cold War atomic histories and modern-day dystopian imaginings of nuclear winters and climate change, which depict the disruption of social and racial hierarchies and the exploitation of natural resources.  Her main areas of interest are energy and environmental humanities, critical race and ethnic studies, and the Global South. She speaks English, French, Hindi and Russian.
During her time at Northwestern, Raina founded and served as President for the Subcontinent Project, an active TGS-affiliated organization which works in and around South Asian culture and politics. She has also served as Graduate Assistant for the Race, Caste and Colorism Project at the Buffett Institute for Global Affairs.
Back to top