Undergraduate Program News and Updates
Congratulations graduated seniors!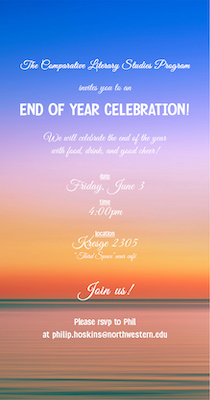 COMPARATIVE LITERARY STUDIES MAJORS
Sarah Bryant (June 2022)
Violet Decker (June 2022)
Olivia Liu (June 2022)
Hanbyuljenny Kang (June 2021)
Nikol Kralimarkova (June 2021)
Jeremy Lopategui (June 2021)
Lucy McDermott (June 2021)
Isabella Schmidt (June 2021)
Tara Shirvaikar (March 2021)
WORLD LITERATURE MINORS
Emily Brooks (June 2022)
Paula Fernandez Yarte (June 2021)
Steven Singer (March 2021)
Jackson Elliott (Sept. 2020)
---
Undergraduate event - Winter 2022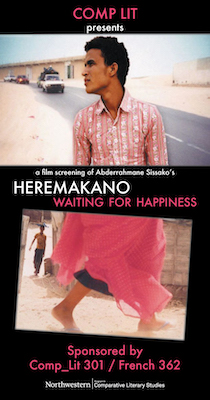 On Tuesday, February 1st, 2022, Professor Nasrin Qader and Moussa Seck hosted a film screening of Abderrahmane Sissako's Heremakano: En attendant le bonheur (Waiting for Happiness). The screening was an extension of Professor Qader's course "African Literatures and Cultures" (Comp_Lit 301/French 362).
Heremakano, Abderrahmane Sissako's 2002 release, depicts life in the seaside town of Nouadhibou in Mauritania. A young man, Abdallah, visits the town, where his mother lives, before emigrating to Europe. He feels disconnected from his people because he dresses in Western clothes and does not speak the language, but he connects in small ways during his stay.
---
honors 2021-2022 & 2020-2021
The following Comparative Literary Studies seniors received departmental honors for the 2021-22 or 2020-21 academic years. Congratulations on their academic achievements!
2021-22

Violet Decker | "God, Absurdism, and Law: Suffering and Meaning in the Works of Nietzsche, Dostoevsky, and Camus" | Advisor: Jonas Rosenbrück
2020-21
Hanbyul-Jenny Kang, 2020-21 | "Re-Belonging to the Body: South Korean Women's Resistance to Double Colonialism in 중국인거리 (Junggugingeori) and 고삐 (Goppi)" | Advisor: Evan Mwangi
Jeremey Lopategui, 2020-21 | "Nietzsche's Understanding of Truth, Lies, and Constructing" | Advisor: Samuel Weber
Lucy McDermott, 2020-21 | "A Reading of Assia Djebar's L'Amour, la fantasia and Eugène Fromentin's Un été dans le Sahara and Une année dans le Sahel" | Advisor: Nasrin Qader
Tara Shirvaikar, 2020-21 | "The Rise of the Female Vernacular: Contemporary Indian Women Authors and the Subversion of the Heteropatriarchal Linguistic Establishment" | Advisor: Laura Brueck
---
BA/MA Combined Degree Program
The Comparative Literary Studies Program offers a combined BA/MA degree path for superb undergraduate majors. The following students completed Comp Lit's BA/MA program with joint degrees in 2021-2022 or 2020-2021:
2021-22
Sarah Bryant | "Warring Fictions: U.S. Military Cultural Publications and Iraqi Fiction Post-2003" | Chair: Harris Feinsod; Advisor: Rebecca Johnson
2020-21
Hanbyul-Jenny Kang | "Re-Belonging to the Body: South Korean Women's Resistance to Double Colonialism in 중국인거리 (Junggugingeori) and 고삐 (Goppi)" | Chair: Evan Mwangi; Committee Member: Harris Feinsod
Isabella Schmidt | "Blended Genres in the Achilleid: Tensions Between Epic and Elegy in Statius' Achilles" | Chair: Jennifer Weintritt; Committee Member: Reginald Gibbons