Department of Spanish and Portuguese & Comparative Literature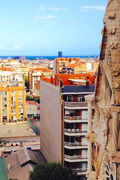 Comparative Literary Studies students with a home department of Spanish & Portuguese are able to take graduate seminars on Spanish- and Portuguese-language literatures from throughout the world, with a special emphasis on the Southern Cone, Peru, and Brazil, as well as Lusophone African literatures. The department's emphasis on critical-theoretical training and triple fluency in English, Spanish, and Portuguese makes it an excellent fit for students with comparative interests.
Visit the Spanish & Portuguese home page.
Back to top