Student Spotlight: Camille Lopez-Silvero
Camille is a rising senior majoring in Comparative Literary Studies. She spent her summer in New York City completing an internship at a media agency. Learn more about Camille and how Comparative Literary Studies has influenced her personal, academic, and professional goals.
---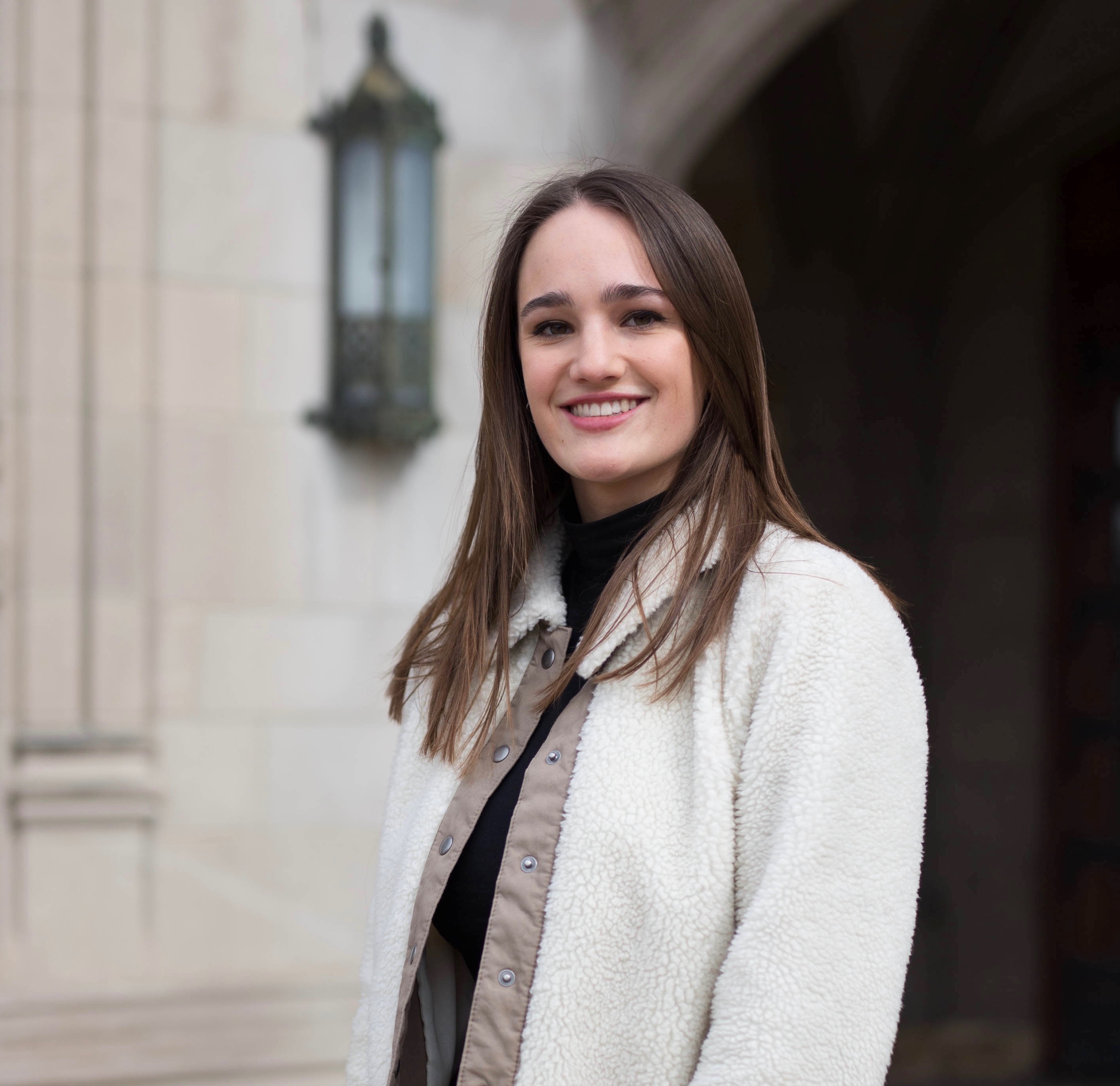 Tell us about yourself:
My name is Camille Lopez-Silvero and I am a rising senior at Northwestern University majoring in Comparative Literary Studies and minoring in Entrepreneurship.  I grew up in Summit, New Jersey, a suburban town about 45 minutes outside of New York City.   I am half-French; half-Cuban and I grew up in a tri-lingual household alongside my three sisters.  This led me to develop a fascination with languages, travel and global cultures at a young age.  My French/Cuban/American upbringing led me to pursue the study of Comparative Literature, where I could continue my study of languages and global arts.  In addition to my passion for literature, I love to ski and spend time outdoors.  At Northwestern, I serve as the president of the Northwestern Ski Trip Executive Board.  The NU Ski Trip exec board is comprised of ten students and, together, we plan an annual ski trip to Colorado each winter break catering to roughly 500 to 1,000 NU students each year.  This club has given me the opportunity to share my love of skiing with the Northwestern community and explore a handful of mountains in Colorado.  Overall, I feel very fortunate to have been able to pursue my passions throughout my time at Northwestern and I am looking forward to seeing where life takes me after graduation.
Why did you choose to pursue Comparative Literary Studies?
When I first came to Northwestern, I had no idea what I wanted to major in.  As I walked through the major/minor fair in Norris, I stumbled upon the Comparative Literary Studies table and I was instantly intrigued.  I've always loved literature, but I knew that I wanted a departure from the English and American texts that I read throughout high school.  I've always believed that the study of literature is really a study of anthropology, philosophy and history.  The Comp. Lit department was the perfect place for me to truly dive into a multi-disciplinary and multi-cultural study of literature.  Additionally, the CLS department afforded me the perfect opportunity to delve into a deeper study of my French and Cuban roots.  The Comp. Lit major was the best way for me to ameliorate my Spanish and supplement my love of literature with a study of philosophy, media and literary theory.  Ultimately, I could not be happier with my decision.  Thanks to the comp. lit major I discovered my love of Russian literature, studied the French films that my mother grew up watching, drastically improved my Spanish, and read dozens of incredible texts. 

What skills have you developed through your coursework and projects as a Comp Lit major?
The comparative literature coursework I have taken has taught me many valuable skills.  First and foremost, I learned the valuable skill of literary critique, which involves analyzing the social, cultural and historical context of a text.  This has taught me to think critically always question culturally dominant narratives.  I also greatly improved my Spanish fluency and learned a great deal about Spanish art and social movements.   Furthermore, I learned how to draw inter-disciplinary parallels, exploring the relationship of literature to philosophy, film, fine art, music and more.  Ultimately, the comparative literature department has expanded my worldview and helped me develop strong critical thinking and communication skills.

Tell us about your summer internship:
This summer I am interning at a marketing and advertising company based in New York City called Swellshark.  Swellshark is unique in that it pulls on everyday 'moments of influence' to target desirable customers and maximize the impact of each campaign.  I am working closely with the accounts team to develop and launch various ad campaigns.  As an intern, I have been conducting industry research, communicating campaign goals with clients and creating pitch decks for both the internal accounts team and the clients. 

How have the skills and knowledge gained in Comparative Literature helped you in your internship?
As a marketing intern I have been drawing heavily on the analytical skills that I have gained through my Comparative Literature coursework.  The courses I have taken have taught me how to tackle problems with a unique perspective in order to find creative solutions.  This is particularly applicable when I am tasked with helping the creative strategy team create unique campaign plans.  After all, the best marketing campaigns employ a unique approach to reach new customers and leave a lasting impression on the public.  I have also learned how to concisely present my thoughts which is enormously helpful when I create pitch decks and summarize meeting notes for my team.  Overall, the comparative literature coursework has expanded my perspective, allowing me to view problems from multiple angles and ultimately reach unexpected conclusions.

Tell us a fun fact:
I got a black belt in Tae Kwon Do when I was 12!