Undergraduate Program News and Updates
Congratulations graduating seniors!
Comparative Literary Studies had four students graduate in 2018-2019: Jack Drumm, Sophia Lencioni, Lauren Place and Jacob Stern.
The World Literature Minor had 7 students graduate: Elizabeth Cameron, Rebecca Fudge, Gwang Han, Meiying He, Gloria Mao, Sarah McDonough, and Kelsey Robins. 
Graduating senior, Lauren Place, will be moving to New York City to start an internship with The Magnetic Collective, a branding and marketing strategy consultancy focused on qualitative research and digital ethnography with partnerships spanning around Europe, Africa, and Asia. Lauren also plans to travel and may spend some time working on an organic farm in Korea (WWOOF Korea).
---
senior seminar - fall 2018
Every Comparative Literary Studies major participates in the Senior Seminar during the Fall of the student's senior year. Students develop a research proposal and work closely with their faculty advisor and seminar instructor to develop their projects. The students and faculty come together at the end of the seminar to present and share their work, as well as celebrate their achievements! This year's seminar included the following presentations:
Kim Ae-Ran's Run Dad: The Realism of Korean Female Writers & the Values of Translation by Lauren Place

Lauren Place explores the historical emergence and development of realism in Korean literature and its rebirth   in contemporary female writers. This background is accompanied by her analysis of translating Kim Ae-Ran's fiction for "fluency" versus fidelity to the text.

Sensing Deconstruction: Clarice Lispector's Phenomenology in The Passion According to G.H. by Jack Drumm

Jack Drumm traces how Clarice Lispector's novel reconfigures the Biblical Passion narrative as a process of encountering the "living neutrality" which lies in the borderlands between categories like human/animal and civilized/natural. His project investigates the implications of touching, seeing, and consuming the animal other, as a means of unearthing a subjectivity outside of its "humanized" limits.

Governance and Surveillance in Dante's Purgatorio by Jacob Stern

Jacob Stern situates the moral ideology of Dante's Purgatorio in its historical context, with special attention to contemporary papal politics, in order to discuss the disciplinary power represented in Dante's poetics.

Resisting Categories: Gender, Diet & Metamorphosis in Kafka's Die Verwandlung & Han Kang's The Vegetarian by Sophia Lencioni

Sophia Lencioni compares two radically different modern tales that update the literary topos of "metamorphosis." She argues that, through nonconformity in domestic spaces, these narratives enact strategies of resistance through the bodily transformations of their protagonists.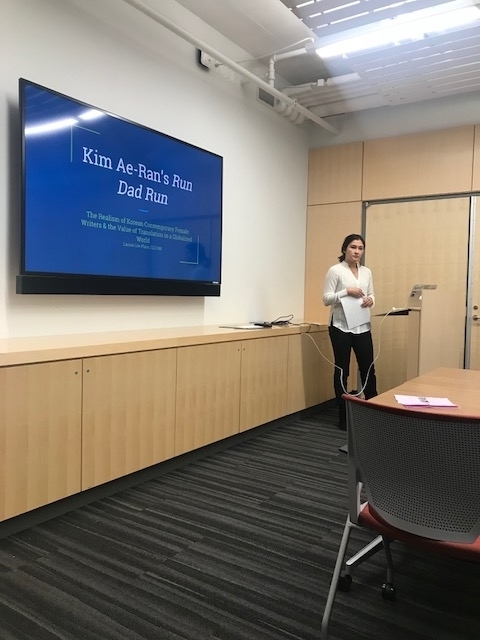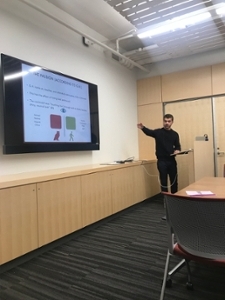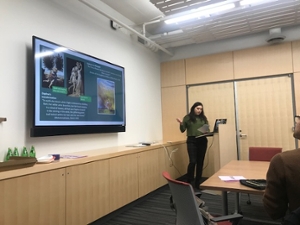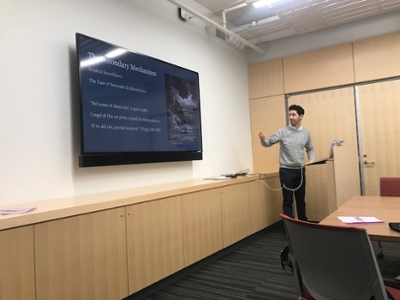 ---
honors 2018-2019
The following Comparative Literary Studies seniors received departmental honors for the 2018-19 academic year. Congratulations to Sophia and Lauren on their academic achievements!
Sophia Lencioni
Thesis: "Transforming and Flinching away in Julio Cortázar's "Axolotl" and Franz Kafka's Die Verwandlung" | Advisor: Anna Parkinson
Lauren Place
Thesis: "Kim Ae-Ran's Run Dad Run: Korean Realism and the Value of Translation"
Advisor: Laura Brueck
---
BA/MA Combined Degree Program
The Comparative Literary Studies Program offers a combined BA/MA degree path for superb undergraduate majors. The following students were accepted to Comp Lit's BA/MA program and will be working toward their joint degree in 2019-2020:
Isabella Schmidt will be working with Classics Professor Francesca Tataranni on the appropriation of the Greeks and Romans in societies from Renaissance Italy to present day United States, questions that allow us to understand today's society in a different light when viewed through the lens of the past.
Jenny Kang will be working with English/Comp Lit Professor Evan Mwangi on exploring Korean literature through the lenses of postcolonial theory, critical race studies, and political philosophy.