Jeong Eun Annabel We
Assistant Professor of Korean Literature and Culture
Ph.D. Rutgers University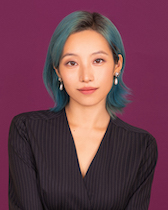 Jeong Eun Annabel We (she/they) specializes in modern Korean literature and culture and decolonial thought with a broader engagement with transpacific scholarship. Her current book project, tentatively entitled Speculative Immobilities: Decolonial Becoming in the Transpacific, examines a genealogy of speculative texts across the Pacific centering of Korean, diasporic, Native American, and Caribbean thinkers and authors. Probing the relationship between im/mobility and de-coloniality in this genealogy, Speculative Immobilities asks what decolonization of Korea and beyond might look like in relation to the ongoing militarism and settler colonialism in the Pacific. If you have media/interview inquiries, please consult this page.
Jeong Eun/Annabel's teaching interests include global South to global South intellectual genealogies, modern and contemporary South Korean fiction, film, and social movements, diasporic cultural production, settler colonialism, critical race theory, feminist and queer theory, and disability studies. At Northwestern, she has offered courses on fictional and filmic representations of disasters in contemporary South Korea, debates and current issues in feminist, queer, and disability justice movements in South Korea, colonial Korean literature and culture, and the writings of Frantz Fanon. If you have questions about working with her, please consult this page.
She co-edited the special issue "Frantz Fanon, Decoloniality, and the Spirit of Bandung" in Bandung: Journal of the Global South with Nelson Maldonado-Torres, Mireille Fanon Mendès-France, and Zandisiwe Radebe. Her publications have also appeared in the anthology Decolonising the University (Pluto Press 2018) and the journals GLQ: A Journal of Gay and Lesbian Studies, ACTA Koreana, Cultural Dynamics, Philosophy and Global Affairs, and Journal of Korean Studies.
She received her B.A. from Northwestern University and her Ph.D. in Comparative Literature from Rutgers University, New Brunswick from where she also holds a certificate in Women's and Gender Studies.
She has been awarded Excellence in Service and Outreach by the School of Graduate Studies, Rutgers University for her work with NoDutDol for Korean Community Development. Her collaborative artistic publication with NoDutDol has been featured in The Social Movement Archive (Litwin Books and Library Juice Press 2021) by Jen Hoyer and Nora Almeida and included in the multi-site exhibit "Shaping the Past" by the the Goethe Institut, Monument Lab (Philadelphia), and the Federal Agency for Civic Education (Bundeszentrale für politische Bildung, Germany). In 2022 Fall, she offered a Newberry Library Teacher's Consortium Seminar on "Parasite: Pedagogies and Methodologies of the Oppressed," and in 2023 Spring, she is convening a film screening and accompanying panels on Deann Borshay Liem's film Crossings and international feminist peace activism.
At Northwestern University, she is core faculty of the Program in Comparative Literary Studies, member of the Advisory Board in the Program in Critical Theory, and affiliated faculty in Environmental Science Program. In 2012, she co-founded the Critical Theory Research Workshop at Northwestern with Rafael Vizcaíno and X. Joyce Fan, with the support of the Alice Kaplan Institute for the Humanities, and now serves as its faculty sponsor.
Selected Publications:
Edited Issues
"Frantz Fanon, Decoloniality, and the Spirit of Bandung." (with N. Maldonado-Torres, M. Fanon-Mendès-France, and Z. Radebe). Bandung: Journal of the Global South 6.2. 2019
Articles
 "Editorial Introduction: Frantz Fanon, Decoloniality, and the Spirit of Bandung." (with N. Maldonado-Torres, M. Fanon-Mendès-France, and Z. Radebe). Bandung: Journal of the Global South 6.2: 153-161. 2019.
"Spirit of Bandung Beyond Colonial Mobility." Bandung: Journal of the Global South 6.2: 190-209. 2019.
"The Transpacific Tempest: Relational Sovereignty and Spiritual Sociogenesis." Cultural Dynamics 31.4: 375-398. 2019.
Book Chapters
 "Decolonizing Philosophy." (with N. Maldonado-Torres, R. Vizcaíno, and J. Wallace). Decolonising the University. Eds. by G. K. Bhambra, D. Gebrial, and K. Nisancioglu. Pluto Press: 64-90. 2018. Open Access