Patrick Noonan
Assistant Professor of Japanese Literature and Culture and Comparative Literature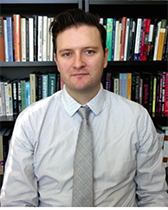 847-467-0283
1880 Campus Drive, Kresge Hall, Office 4-550
Patrick Noonan received his Ph.D in Japanese literature with a Designated Emphasis in Film Studies from the University of California at Berkeley. He teaches courses on modern Japanese literature and culture, the 1960s in East Asia, Japanese cinema of all periods, and advanced courses in Japanese language.
His research interests include the social and cultural movements of the 1960s, 20th century modernisms, Japanese literary and intellectual history, cultural studies, transnational film theory, and global genre cinema.
He is the author of "The Alterity of Cinema: Subjectivity, Self-Negation, and Self-Realization in Yoshida Kijū's Film Theory" (The Review of Japanese Culture and Society, December 2010) and translator of the documentary filmmaker Hara Kazuo's memoir Camera Obtrusa: The Action Films of Hara Kazuo (Kaya Press, 2009). He is currently working on a manuscript titled "Our Dissolution:" Subjectivity, Collectivity, and the Politics of Form in 1960s Japan, which examines how the theorization and representation of subjectivity, across literary and visual media, both enabled and foreclosed the possibilities of political action in the Japanese 1960s.