Corey Byrnes
Associate Professor of Chinese Culture
Ph.D., University of California, Berkeley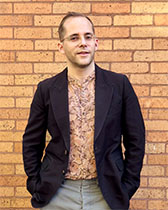 1880 Campus Drive, Kresge Hall, Office 4-548
Corey Byrnes received a PhD in Chinese Literature from the University of California, Berkeley in 2013. His research and teaching areas include modern and contemporary Chinese literary and visual culture, critical animal studies, and the environmental humanities. He is the co-founder and co-director of Northwestern's Kaplan Institute for the Humanities' Environmental Humanities Workshop, which is the center of a lively and growing community of faculty and graduate students whose work engages with environmental issues. The Environmental Humanities Workshop hosts a wide range of events, including work-in-progress workshops, reading groups, film screenings, artist talks, and public lectures by some of the leading figures in the environmental humanities.
Professor Byrnes' first book project, Fixing Landscape (Columbia University Press, 2019), won Columbia University's Weatherhead East Asian Institute's First Book Award in 2018. It approaches the 2500-year-long representational tradition inspired by the Three Gorges region of southwestern China from the perspective of the recently completed Three Gorges Dam, which displaced well over one million people and radically transformed the ecology of the Yangzi River. Rather than a chronological account of the region's aesthetic history, it focuses on the individual moments, people, and texts that have had the greatest impact on the imaginative and material production of this iconic landscape. By looking beyond the standard narratives about the origins of the Three Gorges Dam project, it locates the dam's ultimate horizon of possibility in the aesthetic traditions that made the region both famous and central to the political mythology of multiple Chinese states.
His second project, tentatively titled China as Threat, examines the relationship between China and a global environmental imaginary in which it is increasingly treated as an existential threat. Threat is an especially useful category for writing about a "rising" China, which is often imagined as both a site of localized ecological ruination that prefigures imminent global collapse and also as a source of environmental peril that exceeds national boundaries. Particularly in the global north, China has become a focal point for ambient eco-anxieties that are inevitably shadowed by longer histories of perceived racial, cultural, and economic threat. It is easy (and essential) to critique the demonization of China, but the real challenge lies in disentangling imagined threats from very real and present environmental dangers. China as Threat confronts this challenge in a focused way, by looking at the material and figural roles of non-human animals and natural systems in shaping China's place in the global environmental imaginary.
Professor Byrnes' areas of specialization include 19th-21st century Sinophone literature, film, and visual culture; comparative environmental humanities; animal studies; landscape and spatial studies; and classical Chinese poetry and prose (ancient through Song Dynasty). He is a core-faculty member of Northwestern's Comparative Literary Studies Program.
Books
Fixing Landscape: A Techno-Poetic History of China's Three Gorges (now available from Columbia University Press)
Awards
Weatherhead First Book Award
The co-winner of the 2018 First Book Award is Corey Byrnes for Fixing Landscape: A Techno-Poetic History of China's Three Gorges, now available from Columbia University Press. The First Book Award of the Studies of the Weatherhead East Asian Institute was established to enable young scholars to publish their first work. The donor is an alumna of the Columbia School of International and Public Affairs who worked for the Institute's publications program more than thirty years ago. It is her hope, through this endowment, that the Institute's publications programs will continue to benefit young scholars of East Asia for a long time to come. 

Selected Publications
"Transpacific Maladies," Social Text 38.3 (Fall 2020)
"The Infrastructure of Coral," Verge: Studies in Global Asias 6.2 (Fall 2020), Special Issue on Infrastructure
"Chinese Landscapes of Desolation," Representations 147 (Summer 2019)
"Wu Ming-yi's Man with the Compound Eyes—Of Changing Seas and a World Made Rich and Strange," Modern Chinese Literature and Culture Resource Center (online; October 2014)
"Specters of Realism and the Painter's Gaze in Jia Zhangke's Still Life," Modern Chinese Literature and Culture (Fall 2012)