Chris Abani
Board of Trustees Professor of English and Comparative Literature
Ph.D. University of Southern California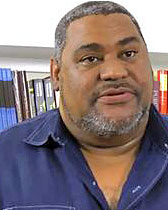 847-467-1065
University Hall 113
Chris Abani teaches Creative Writing (Fiction and Poetry) and Literature. He is a novelist, poet, essayist, screenwriter and playwright. His fields of interest include African Poetics, World Literature, 20th Century British and American Literature, African Presences in Medieval and Renaissance Cultural Spaces, The Architecture of Cities and their Potential Symbiotic Relationship with their Populations, West African Music, Postcolonial and Transnational Theory, Robotics and Consciousness, Yoruba and Igbo Philosophy and Religion.
His prose includes The Secret History of Las Vegas (Penguin 2014), Song For Night (Akashic, 2007), The Virgin of Flames (Penguin, 2007), Becoming Abigail (Akashic, 2006), GraceLand (FSG, 2004), and Masters of the Board (Delta, 1985).

His poetry collections are Sanctificum (Copper Canyon Press, 2010), There Are No Names for Red (Red Hen Press, 2010), Feed Me The Sun - Collected Long Poems (Peepal Tree Press, 2010) Hands Washing Water (Copper Canyon, 2006), Dog Woman (Red Hen, 2004), Daphne's Lot (Red Hen, 2003) and Kalakuta Republic (Saqi, 2001).

He has also written numerous essays, articles, book reviews and critical papers on art, poetry, cities and literature for local and international journals, magazines and newspapers.

His work has been translated into French, Italian, Spanish, German, Swedish, Romanian, Hebrew, Macedonian, Ukrainian, Portuguese, Dutch, Bosnian and Serbian.

He holds a B.A. in English from Imo State University, Nigeria, an M.A. in Gender and Culture from Birkbeck College, University of London, an M.A. in English and a Ph.D. in Literature and Creative Writing from the University of Southern California.

He is the recipient of the PEN USA Freedom-to-Write Award, the Prince Claus Award, a Lannan Literary Fellowship, a California Book Award, a Hurston/Wright Legacy Award, a PEN Beyond the Margins Award, the PEN Hemingway Book Prize and a Guggenheim Award.

Chris Abani has taught in numerous countries around the world including countries in sub Saharan Africa (Gambia, Nigeria and South Africa), the Middle East (Qatar), Central Asia (Thailand) and Europe (UK).