Christine Froula
Professor of English and Gender Studies & Sexuality Studies
PhD, University of Chicago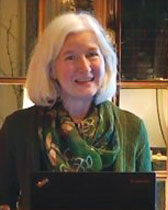 Christine Froula (Ph.D. University of Chicago) teaches interdisciplinary modernism, nineteenth- and twentieth-century literature and theory, feminist and gender theory, contemporary women artists, and the Western European literary tradition. She has held fellowships from the Guggenheim Foundation, the National Endowment for the Humanities, the American Association of University Women, and the Alice Berline Kaplan Humanities Center and has been a President's Fellow at Northwestern, a Faculty Affiliate at the Kaplan Humanities Center, and a Visiting Research Fellow at Clare Hall, Cambridge University, England, where she was elected a Life Member. She held the inaugural Herman and Beulah Pearce Miller Research Professorship and is affiliated with the Comparative Literary Studies Program, the Interdisciplinary Theatre and Drama Program, and the Gender Studies Program. She was the Fannie Hurst Visiting Research Professor of Literature at Washington University in St. Louis in 2000 and served on the faculty of the International James Joyce Summer School in Dublin and the International Yeats Summer School in Sligo, Ireland. She served as President of the International Virginia Woolf Society from 1997-2000 and co-chaired, with Cynthia Bowman (Law), Northwestern's Organization of Women Faculty in 2000-01.
Her books include A Guide to Ezra Pound's Selected Poems (New Directions, 1983), To Write Paradise: Style and Error in Pound's Cantos (Yale UP, 1984), Modernism's Body: Sex, Culture, and Joyce (Columbia UP, 1996), and Virginia Woolf and the Bloomsbury Avant-Garde: War, Civilization, Modernity (Columbia UP, 2005), which won the 2005 Award for Excellence in Professional and Scholarly Publishing in Literature, Language, and Linguistics. Articles include work on Milton, Browning, Derrida, Eliot, Freud as well as feminist theory, modernism, and translation, including: "The Beauties of Mistranslation: On Pound's English after Cathay" (2003), "Truth on Trial: Quantum Physics, Western Enlightenment, and A Passage to India," Etudes anglaises (2005), and "On French and British Freedoms: Early Bloomsbury and the Brothels of Modernism," Modernism/Modernity (November 2005).
Specific interests to Comparative Literary Studies: Interdisciplinary and transnational modernism; late 19th-20th-century literature, art, aesthetics; contemporary literary and gender theory; western literary traditions; textual scholarship; translation studies.
Back to top