Harris Feinsod
Associate Professor of English and Comparative Literature
Ph.D., Stanford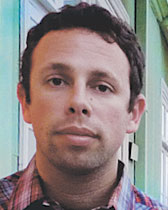 847-467-1762
University Hall 319
Harris Feinsod (A.B., Brown, Ph.D., Stanford) teaches 20th and 21st century US and Latin American literature and culture. His research focuses on comparative poetics and the history of poetry in English and Spanish, modernism and the historical avant-gardes in Europe and the Americas, transnational literary studies (especially hemispheric literary and cultural relations), oceanic studies, and the inter-ethnic and postmodern cultures of the US "new west." Formerly, he was Geballe Fellow at the Stanford Humanities Center (2010-11), College Fellow at Northwestern (2011-12), and Mellon Fellow at the Harry Ransom Center (summer, 2012). In 2015-16, he is the Early Career Fellow in residence at the University of Pittsburgh Humanities Center. His writing has appeared in American Literary History, American Quarterly, Arcade, Centro, Chicago Review, Telos, and the 4th edition of the Princeton Encyclopedia of Poetry and Poetics (2012), for which he served as an assistant editor.
His current book project, "The Poetry of the Americas from Good Neighbors to Countercultures," is a literary history of the relations between poets in the U.S. and Latin America in an era of cultural diplomacy, from the intensification of the Good Neighbor Policy at the onset of World War II through the cultural dimensions of the Cold War in the 1960s. Reading poems and collections by Adán, Bishop, Burgos, Cardenal, Carrera Andrade, Ginsberg, Hughes, Lezama Lima, Neruda, Olson, Stevens, Williams and many others, "Fluent Mundo" tracks interchanges between state-sponsored inter-Americanism, academic verse culture and avant-garde poetics. Recuperating a tradition of hemispheric literary journals, and revising prevalent views on the ethics of translation and dominant period styles, the book demonstrates how the evolving imagination of hemispherism informed several generations of diverse mid-century poets in vanguard milieus and the halls of diplomatic officialdom. Feinsod is also at work on a second book provisionally entitled "Into Steam: Maritime Modernism's Global Imaginary."
From 2012-2015, Feinsod directed Northwestern's Comparative Modernisms workshop together with Rebecca Johnson and Alejandra Uslenghi. He serves as the associate director of the Poetry & Poetics Colloquium along with Susannah Gottlieb, and with John Alba Cutler, he directs Open Door Archive, a digital repository and exhibition space for modern and contemporary poetry. In addition to his core appointments in the Departments of English and Comparative Literary Studies, he is an affiliate of the Department of Spanish and Portuguese.