Department of African American Studies & Comparative Literature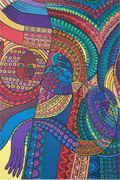 The Department of Arican American Studies aims to advance critical understandings of the central role that race plays in structuring lives, spaces, relations of power, and subjectivities within modern social formations. The department considers different manifestations of blackness as well as other forms of racialized identity across the globe from historical, theoretical, and other varying perspectives.
The department's faculty and affiliates come from a range of disciplines in the humanities and social sciences. By placing these scholars in conversation with one another, they aim to encourage an understanding of how, where, and when traditional disciplinary boundaries begin to blur. This process generates critical conversations regarding the social meanings of race and blackness across the globe, while a commitment to working across--and often against-- traditional disciplinary assumptions illuminates new terrains through which our intellectual and political mission can be advanced.
Visit the African American Studies home page.
Back to top